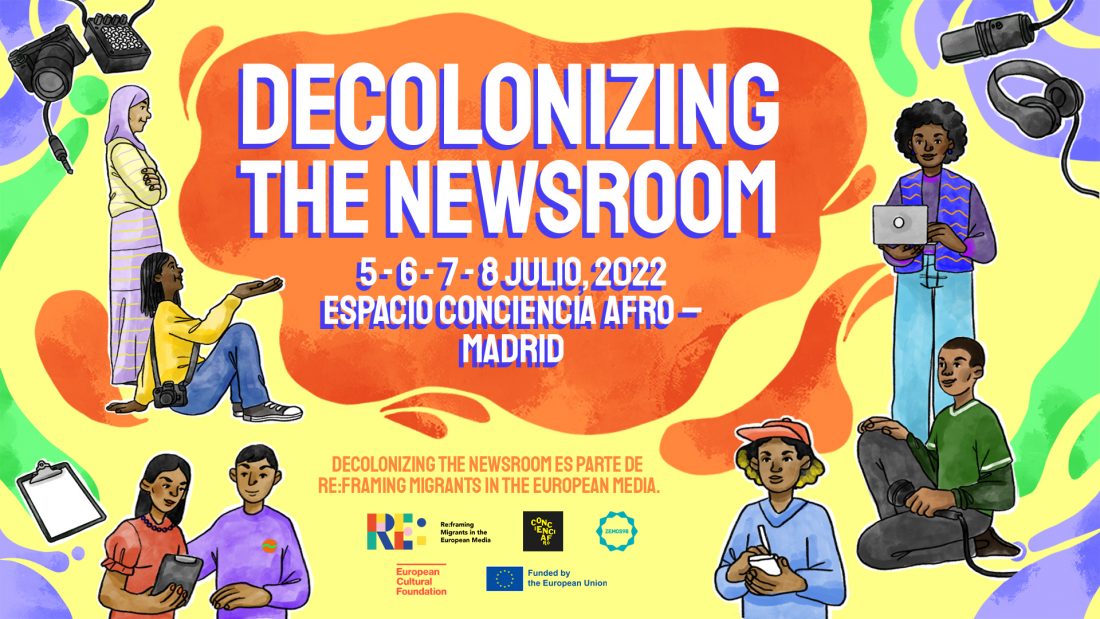 Decolonizing the Newsroom
Decolonizing the Newsroom is an encounter taking place in Espacio Conciencia Afro (Madrid) from the 5th to the 8th of July, 2022. There will be a hackcamp in the mornings and a public program in the evenings. You can take a look at the public program below.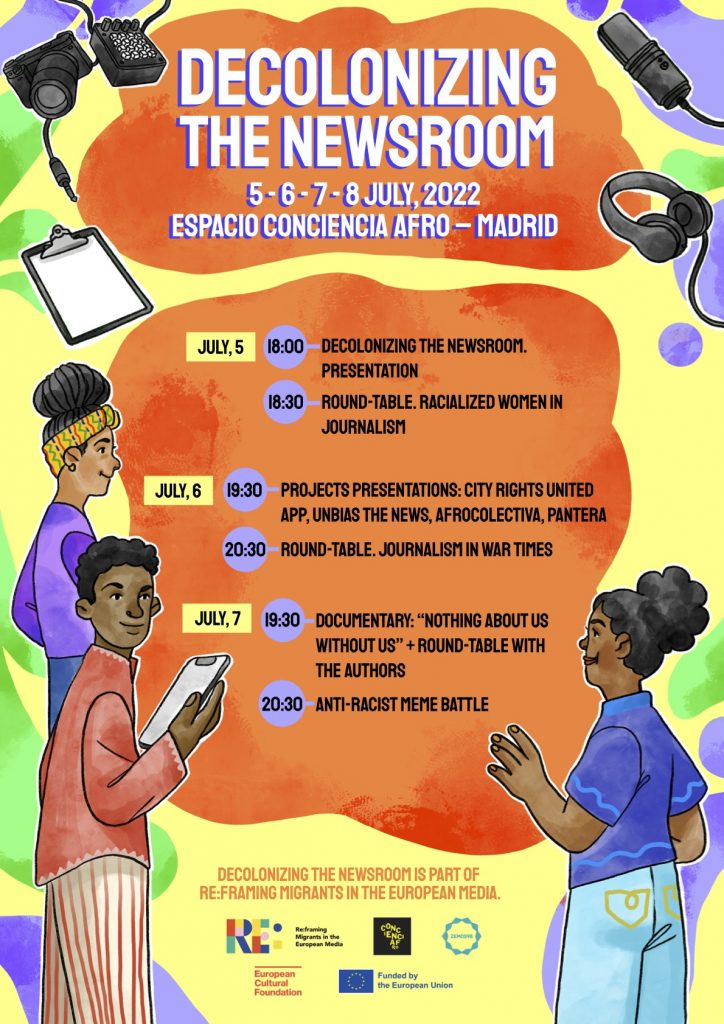 Vivian Mule is the author of the posters
Media shapes our imagination and structures our interactions in the public sphere. Across Europe, migrant communities and individuals are raising their voices to reclaim their rights to self-representation and to participate in those debates that help us reach a more open and inclusive society. Decolonizing the Newsroom is part of Re:Framing Migrants in the European Media connects journalists with a migrant background to struggle for fairer media representations through different activities involving mainstream media outlets, community media, and campaigning for social rights. 
Decolonizing the Newsroom encounter will gather 50 persons struggling for more inclusive representations of migrants and refugees in the European media sphere. Community media journalists and creators, mainstream media and also freelance journalists, antirracist organizations and movements, artists, and researchers will gather to network, explore and develop tools and methods that give an answer to the challenges identified during the event in relation both to the representation of migrants in European media and to the conditions in which these representations are perpetuated by the functioning of newsrooms and mainstream media in general.
Public Program
5th, July
18:00h – Presentation: Conciencia Afro and Re:Framing Migrants in the European Media
18:30h – Round-Table: Racialized Women in Journalism. With Lucía Mbomio, Reine Elisabeth Nkiambote, Oumaima Abalhaj, Gabriela Wiener. Hosted by Bea Duodu.
6th, July
19:30h – Project presentations: City Rights App, Unbias the News, Afrocolectiva, Pantera
20:30h – Round-Table: Journalism in War Times. With Babah Tarawally, Polina Moroz, Margaryta Yakovenko, Okba Mohammad. Hosted by Moha Gerehou.
7th, July
19:30h – Documentary Nothing about Us without Us. Round-Table with authors.
20:30h – Anti-Racist Meme Battle!
All activities are public and free, open until seating capacity is completed. All activities will be at Espacio Conciencia Afro.
Decolonizing the Newsroom is an encounter coordinated by ZEMOS98 and Conciencia Afro. Re:Framing Migrants in the European Media is a pilot project coordinated by the European Cultural Foundation. Partners and participants organizations are Beyond the Now, Conciencia Afro, Eticas, Gazeta Wyborcza, Here to Support, Hostwriter, Leading European Newspaper Alliance, and ZEMOS98. Re:Framing Migrants in the European Media is funded by the European Union.