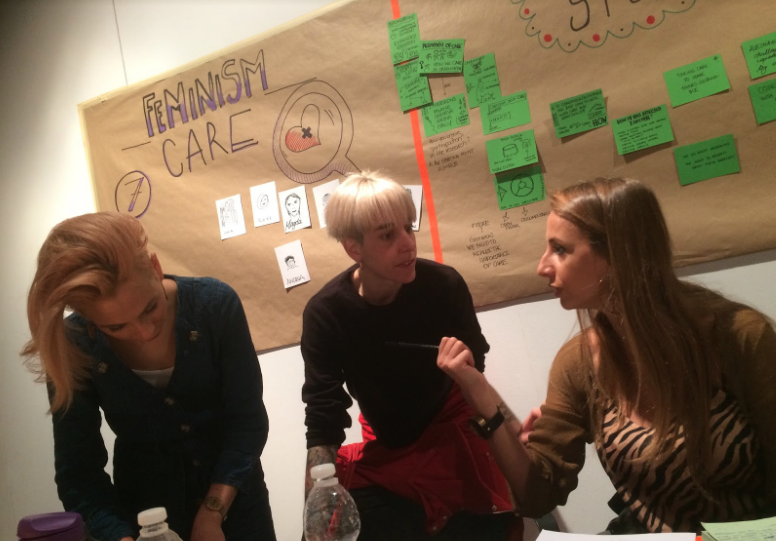 Thinking about care, carefully
Summary of the Pedagogy of Care table at the Culture for Solidarity Fest by Andrea Botero.
Care is a vital, but often overlooked and invisibilized aspect in the conduit of everyday life. What it means to care and who cares in the social change processes we are involved in? As activists, organizers, conspirators and eclectic researchers we gathered last April in Seville to think about these and other questions related to care, from different perspectives. The invitation called for us to build on our own experiences and practices and on the decades of feminist thought and action that recognizes care as an omnipresent and contested notion.
The  invitation for our gathering was originally framed by Zemos98 and made possible by a Rethink grant from Fundaction, a participatory grantmaking platform some us are involved in. The setting could have not been more provocative: The Culture for Solidarity Fest, a meeting of European cultural activists thinking if culture could and should be mobilized towards solidarity, in these troubled times.
Following the methodology proposed by our hosts, we started looking at a case study of  ZEMOS98 called "Pedagogy of Care" a feminist participatory action research that explores various ways in which care is dealt with in activist organisations around Europe. Through interviews and playful artefactual interventions with collectives, associations and municipal platforms from Warsaw (Poland), Messina (Italy), Belgrade (Serbia) and Zagreb (Croatia), the ZEMOS98 team dived into who is caring for the sustainability of life within social change process themselves. One of their central assumptions being that placing care at the core of organizational processes will mean not just redistributing power; but also redistributing the responsibilities related to the sustainability of a community, while working towards more inclusive scenarios for everyone to participate in different ways. That is the joys and burdens of care need to be equally distributed. At present we lack ways to do this. They shared with us some of the tools/artifacts they devised to have these difficult conversations: A table cloth (mantel) and a warmth table (mesa camilla)  to make visible the work involved in reproducing desirable conditions of existence, affections, processes of interdependence, mutual aid, community love, and so on; in the activities of those they talked with.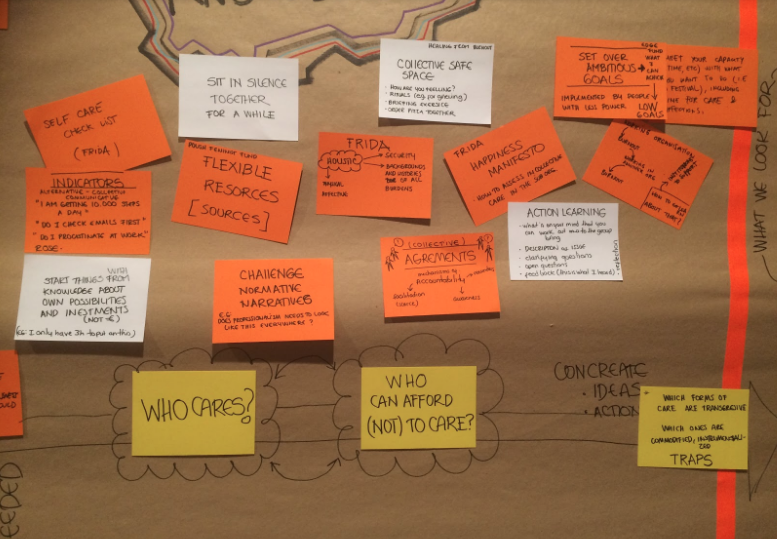 Feminism and Care working group: Peer-knowledge exchange board, the yellow notes are guiding post questions to take care seriously
The case study served as springboard for peer-learning and sharing of different tools and initiatives that we all are aware of or are involved in. We started mapping them with notes in our shared board, making lists and telling anecdotes and stories around them. We learned from initiatives raising awareness and actions of processes of collective and self-care through alternative indicators, manifestos and checklists.  We also discussed collective agreements, mutual compromises and explicit commitments that can be made, so that collectives and groups can take care better of each other. We shared personal and collective trajectories of healing, reflection and active learning that can also become political projects. We looked at some concrete actions that enact care: from high order efforts for building safe spaces, to just sitting together in silence and building new conscious habits for noticing our bodies, others bodies and other stuff. Several participants also pointed out that other parts of the world seem to have very sophisticated practices and discussions around care from with european activists can learn. This is an aspect we hope to be able to work more in the future.
In the meeting we draw connections, saw hope, despair, energy, and laziness in our practices and in our commitments, all of them at the same time.  In doing the exercises we recognized we all are struggling with similar questions, albeit from dissimilar positions and experiences. Perhaps that is why we spend a lot of time exchanging what might sound at first glance mere "mundane" tips. However all of them surfaced the inherent ambivalence and vitality involved when trying to take care seriously, and the urgency of doing so. We were reminded constantly of the dangers of care and the importance of checking constantly for forms of it that can be transgressive. To keep us on track we proposed that it would be useful to do frequent check ups to our projects, actions and situations via 2 simple questions: Who Cares? And Who can afford (not) to care?
The two days, allowed us to talk and see how ways of care can be identified, understood, disentangled and scrutinized concretely and empirically, but the encounter also remind us that the significance of these ways are not always shared. Care, remains ambivalent, or to paraphrase Puig de la Bella Casa: "…like a longing emanating from the troubles of neglect, it passes with in, across, throughout things. It lacks undoes, allows unraveling"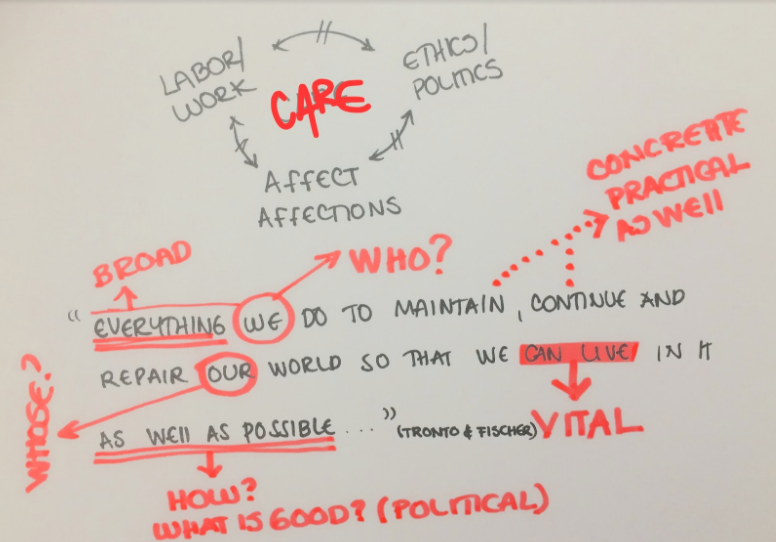 Three dimensions of care and a general definition, with annotations
Who cares.. In the end of the day? To wrap up our thoughts and gave a tentative speculative answer to our questions we follow up the invitation of the organizers to contribute to a collective radio show. We scripted a horoscope section and a short interview program that we believe condenses some of the ideas we muddle through. We can't wait to hear it all!